Best Antivirus for Mobile
Mobile antivirus software takes into consideration all optional versions and is created to protect your device from malware, viruses and Trojans. It also helps you to protect your privacy in the case of loosing or theft of the phone.
The software should use a minimum amount of resources, so that your device won't be slowed down.
The software should scan incoming SMS, MMS, email and email attachments.
The software should protect the device against network attacks.
Firewall should be included as well as automatic virus protection updates.
These features are at a premium when we speak about cases of stolen or lost device:
Location of a stolen or lost mobile phone.
Parental controls.
Prevention of unauthorized spam SMS and MMS.
Any information, including contacts is hidden from unauthorized users.
Texts and calls can be blocked from particular users or numbers.
Unauthorized users are blocked by anti-theft protection when your phone is stolen.
There are some mobile antiviruses that allow you to remotely turn on privacy control. This technology can help you to track your child. This is an important feature for parents especially.
Kaspersky Mobile Security Suite

Kaspersky Mobile Security Suite will help you to protect your smartphone that needs an extra security. Kaspersky Mobile Security will be an adequate choice to protect your cell phone. Being a highly top-ranked Mobile Antivirus solution, it helps you to track your cell phone in case of its theft. Once a new SIM is inserted to the handset, the phone makes a call to the predefined number. Kaspersky Mobile Security blocks spam. Any incoming files are scanned to check for malwares.
The Kaspersky Mobile Antivirus latest version provides an excellent security level, so you can be sure that your smartphone is protected the same way as your PC is. The certain features protect your cell phone against any data loss in case of theft or loss.
Kaspersky Mobile Security key features:
Your privacy is protected. Kaspersky Mobile Security blocks access of your data in case of theft or loss.
GPS trackers feature helps to track your handset. Unwanted calls and messages can be also blocked.
Applications and files are controlled in real time be antivirus component that can run the scans on demand.
Third party access is denied by the system, so that hijacking of data and cyber crime are stopped.
Once you send an SMS to the lost cell phone, the predefined program blocks the access to your phone. Sending the second SMS removes all the data on the lost device.
You can install Kaspersky Mobile Security a child's phone and block messages or calls from unwanted numbers. You also can track your child via the SMS-Find feature.
Norton Mobile Security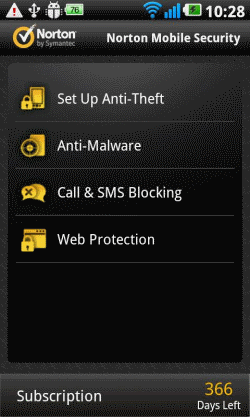 Norton Mobile Securityis another antivirus solution that will help you to block potential threats and protect your device from malware and viruses. Your mobile software faces danger systematically, so that overall system security can be weak. The potential threats may cause potential damage to the personal data and to the system.
Spyware and malware including viruses, Trojans and worms, can be downloaded from instant messages, websites and emails. They can be invisible and unnoticeable so that it will be difficult to detect them. All of them infect some files, causing later system infection. Spam, phishing and cyber crime are tend to slow down the system. If you want to keep these threats away from your device, use a proper security app and block potential threats.
Norton Mobile Antivirus effectively blocks such malicious programs as malware, spyware, phishing, spam and cyber crime and provides a good antivirus protection.
Norton Mobile Antivirus key features:
Protects against mobile spyware, viruses, worms, Trojans.
Minimizes incoming SMS spam.
Blocks any form of cyber crime, including hackers, via improved firewall.
Viruses can be detected in running applications and files through the on-demand scans.
Protects the device against threats from wi-fi and web connections or emails.
The in-built user alerts warn you about potential threats.
Bull Guard Mobile Antivirus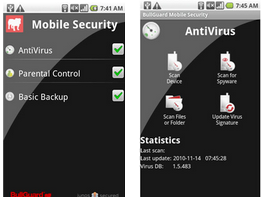 Bull Guard Mobile Antivirus provides your device with the top level security. It provides immediate protection and support for smartphone and Pocket PC's. Many types of worms, viruses and Trojans are specifically intended to infect mobile platforms. Being one of the best products in mediation and intervention of mobile malware problems, Bull Guard MobileAntivirus provides the high level of security. It protects the internal memory as well as removable memory storage cards.
Bull Guard Mobile Antivirus consumes minimum of resources. Containing an anti spam technology and firewall, Bull Guard Mobile Antivirus can be easily installed to your mobile or Pocket PC.
All incoming traffic, including MMS, SMS and emails are scanned by Bull Guard Mobile Antivirus. You can run the scanning in any time make sure that your device contains no malware.
Requirements:
Symbian S60 v9.x
Windows Mobile 5 (or later)
Symbian UIQ v3.X
Bull Guard Mobile Antivirus is a great solution for the personal user of smartphone and Pocket PC as well as for any small business applications. It provides a set of tools that will protect your entire mobile phone. The only nuisance is that the scanning is on demand that means the scanning function cannot be pre-programmed. Although, you can scan stored files, folders or memory card separately.
ESET Mobile Security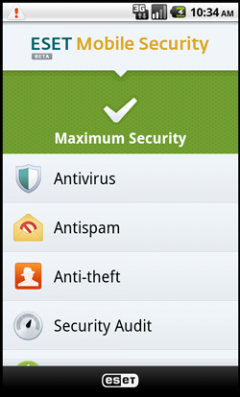 ESET Mobile Security will provide your mobile device with excellent security due to advanced proactive detection technologies. ESET Mobile Security was engineered specially for Symbian and Windows Mobile platforms. It detects a wide range of mobile threats. A light system footprint and a broad feature set make ESET Mobile Security one of the best security solution.
Files and email attachments being accessed or transferred on your Pocket PC or Smartphone are protected against any exploits or SMS spam. Compact updates and low CPU and memory requirements reduce data bandwidth to minimum. With advanced Scanning options you can scan all files including resident, created or incoming via Bluetooth, WiFi, EDGE, GPRS or Infrared. Signature updates can be performed automatically or on-demand at pre-set intervals.
ESET Mobile Security key features:
The EMS heuristics is based on ESET NOD32's proactive protection concept. It is streamlined for the mobile antivirus platform and provides real-time protection against any existing threats.
On-demand scanning includes cleaning and scanning of exchangeable and integrated memory media, running processes and full memory scan. Specific folder scanning is available as well.
On-access scanning controls all used and created files. Access time and virus detection capabilities are included. Files incoming via such connections as Infrared, Wi-Fi and Bluetooth can also be scanned.
Archives can be scanned.
Infiltrations can be deleted or isolated. The restore option is available.
Protection against all types of threats is up-to-date. Updates can be scheduled on a monthly, weekly or daily basis. Updates on a daily basis are set by default. To switch-off automatic updates is also possible.
New features in this are:
Firewall monitors all outgoing and incoming communication that is based on custom rules. Data connections and MMS can be automatically blocked in roaming.
MMS/SMS Antispam allows detecting trustworthy contacts via customizable white or blacklist. It also can block unknown numbers.
Anti-Theft is a complex system that helps to prevent unauthorized access to your information in case of device theft or loss. Several unique components are included:
Remote Wipe allows deleting of all data, including removable memory media, messages and contacts via SMS command.
SIM Matching gives you the option to define a trusted SIM cards list. You will receive notification in case of unauthorized SIM insertion, including IMEI, IMSI and telephone number of the inserted card.
Password protection avoids unauthorized changes in anti-theft settings and un-installation.
Security Audit allows scheduling of regular diagnostics of free disk space, battery life, Bluetooth, running processes and device visibility.
Enhanced Statistics and Logs are available. Comprehensive scan statistics is stored in a user-friendly format. The access to a summary of message filtering, on-access scan results and quarantine activities is easy.
Re-designed User Interface includes intuitive menu and easy to use setting dialogs.
McAfee VirusScan Mobile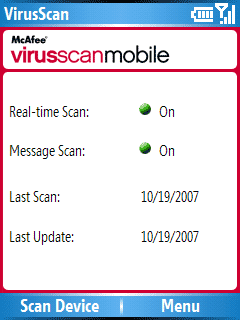 McAfee VirusScan Mobile can become one more security solution for those who requires a reliable and featured antivirus product. Being an anti-malware system, McAfee VirusScan Mobile scans and cleans your mobile data. It prevents corruption from worms, viruses, Trojans and dialers. The system is tending to protect mobile devices from the most widespread threats. Text messages, outbound and inbound emails, Internet downloads and email attachments are under solid security.
McAfee VirusScan Mobile offers you complete mobile protection. It scans all types of files, including text messages and emails. Videos and photos on BlackBerry, Android and Windows Mobile can also be scanned as well as Android and Symbian smartphones tablets. Data transmitted via Wi-Fi, Bluetooth or infrared communications is protected by the comprehensive anti-malware technology.
Threat alerts are instant and any malware can be detected in less than 200 milliseconds. Continuous protection does not interrupt wireless connectivity or operations. The system immediately detects and cleans malicious files. Your devices are protected from the latest threats due to automatic upgrades.
McAfee VirusScan Mobile detects threats in real time. Malware in text messages, emails and attachments is blocked without any delay. McAfee VirusScan Mobile provides comprehensive and automatic protection for smartphones.
McAfee VirusScan Mobile protects your corporate assets allowing you to keep confidential customer and corporate data safe. Don't lose your vital data. Let McAfee VirusScan Mobile protect your mobile device from worms, viruses, Trojans and dialers.
McAfee VirusScan Mobile can minimize the downtime of employee. Corporate smartphones are secured so that disruptions in mobile business and service communications can be protected, and the employees can work effectively. Once malware is detected, the system blocks and cleans it. Mobile operations are not slowed down.
McAfee VirusScan Mobile suggests you automatic security updates. McAfee Labs global security team provides wirelessly scheduled mobile device signature updates. If a policy or signature update fails, you will be undoubtedly notified about unprotected devices. Once device is infected with new malware, you will receive alerts.
VirusScan Mobile was designed intentionally for mobile devices so that they can run with minimal system resources. McAfee VirusScan Mobile is easy-to-use system with rapid file scanning and low power consumption.
There are several minimum system requirements that can vary depending on your environment nature.
VirusScan Mobile
Microsoft Windows Mobile 5 Smartphone and Pocket PC devices
Microsoft Windows Mobile 6 Professional and Standard devices
Disk space: 4 MB for installation
Supported Device Operating Systems
Symbian S60 3rd and 5th Editions
Android 1.5 – 3.0
Microsoft Windows Mobile 6.0 – 6.5
Being an anti-malware system, McAfee VirusScan Mobile scans and cleans your mobile data. It prevents corruption from worms, viruses, Trojans and dialers. The system is tending to protect mobile devices from the most widespread threats. Text messages, outbound and inbound emails, Internet downloads and email attachments are under solid security.
Avira Mobile Antivirus
Avira Mobile Antivirus is very popular and widely purchased mobile antivirus. Avira Antivir Mobile can brag with good performance. It identifies a great number of internet threats and can capture viruses. Avira Antivir Mobile a little bit slows down the load performance. It does not disable a source of threat immediately, but blocks and abstracts this very source.
The antivirus interface is good logical, so that any of complex looking item can be explained by tool tips. Avira Antivir Mobile operates in a softly manner. If any email was detected as suspicious one, the antivirus attaches tags to it.
Avira AntiVir Mobile is a basic and simple product including no parental controls, no extras, no online storage, but has a back up module. A modest product for the modest price provides an outstanding performance. Integrated firewall, port scans and wards off DOS attacks are also available. Parental controls were added to the Avira AntiVir Mobile Version 9 which scans external and internal storages with the use of pre loaded scans. Root kits can be used to open locked files. This helps to provide an outstanding protection for core operating system files and Avira Antivir's own files as well.
Any threat removal can be achieved by one click. Scheduler and scanner guard quarantine are also available. Three levels of security provide an excellent protection much like the help features, so that any information about any function or feature can be found in no time.
Avira Mobile Antivirus is discontinued.