Free Antivirus for Mobile
Today's technology in PC, Laptop and mobile is becoming more and more complex and sophisticated. The potential insecurity of your devices is growing day by day. Antivirus software for mobile phones is created to leave all your worries behind.
If you want to protect your mobile device and keep it in great shape, it is a right choice to use a good antivirus. Antivirus software market offers many types of antiviruses, so that you can choose the most appropriate one. Many websites provide free antiviruses, so you can look and find free version and try its actual continuity.
AVG Mobilation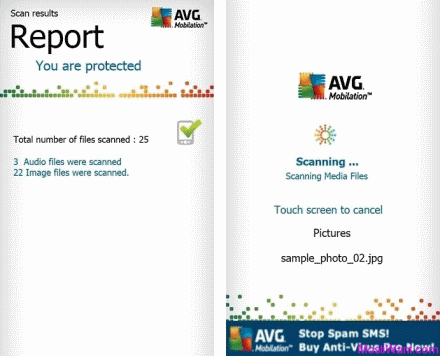 Many different types of free antivirus with many options available give you the opportunity to choose among a lot of them. You can download an antivirus available in the cyber space for free and feel certain of your private and important information. AVG Mobilation detects harmful Apps and SMS automatically. Being a free security solution, it protects your phones from online exploitation, spyware, malware and viruses in real-time.
With AVG Mobilation you can scan settings, apps, media and files in real time, wipe and lock your device and protect your privacy, locate and find your stolen or lost phone with the help of Google maps. You can also browse the web securely and safely.
AVG Mobilation focuses particularly on the mobile environment protecting your online identity, privacy and security. AVG's free antivirus for Android provides you with easy-to-use and effective malware and virus protection. Phone locator, real-time scanner, app locker, local device wipe and real-time scanner are also available.
Real-time security scanner protects you no matter the manner in which you download your games or apps.
With AVG antivirus:
Unsecure device settings are identified. The antivirus also advises you on how to fix them.
Bookmarks, contacts and text messages safety and security are ensured by the antivirus.
You are protected from phishing attacks.
AVG can be run on demand, weekly or daily even. It can locate your stolen or lost phone. It also helps you to find the phone via Google maps. Your phone GPS can be remotely turned on so that the device sends its location using GPS. Your phone can be remotely locked via Mobile Control Panel. A lock screen message is set to help the locator find you.
With AVG Mobilation your web surfing is safe. You can easily stay secure and safe from malware and phishing while surfing the web.
Task killer neutralizes tasks that freeze up or slow down your device. App locker locks apps to protect your safety and privacy. Your device setting can be locked to secure the device configuration. Text messages, contacts, browser history, photos and calendar can be completely wiped.
Antivirus free languages supported are English, Spanish, German, Chinese, Korean, Japanese, French, Russian, Portuguese, Italian, Arabic, Czech, Polish, Hebrew and Dutch.
BitDefender Mobile Security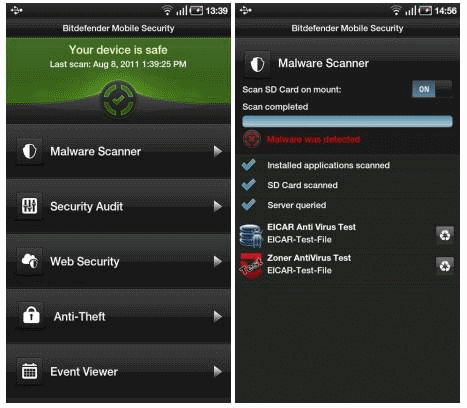 Another free antivirus to be reviewed is BitDefender Mobile Security. Using the new in-the-cloud antivirus services, it efficiently prevents malicious applications from being installed and secure your browsing experience.
Being located anywhere in the world and being lost or stolen, your device can be remotely wiped with the help of MyBitdefender.
Bitdefender Mobile Security keeps you informed about any of your installed apps. It can show you which of them require access to private data, Internet connection or could charge your bill.
You can initiate the scanning process when it is needed, so to reduce the consumption of the battery to the minimum.
Bitdefender Mobile Security automatically scans any apps before their installation on your device, so you can be sure that it is clean and in safety. An on-demand scan also can be run at any time. This will help you to be sure all the apps installed are safe and legitimate.
Each application's permission requirements can be tracked. The application displays which of the apps tries to access sensitive data or the Internet. Software that may add charges on your bill are indicated by the application as well.
You can remotely locate and wipe your device due to the Anti-Theft feature. Status changes, messages and any important actions can be tracked with the help of event viewer. Resources consumption can be minimized and battery life can be extended due to optimized scanning processes that provide protection when needed.
The Bitdefender in-the-cloud antivirus service is used to check all applications. It ensures that no e-threats slip by for lack of timely updates. Bitdefender Cloud services are used to alert you about webpages that are fraud-related or contain malware.
Conclusion:
AVG Mobilation and Bitdefender Mobile Security are perfect free antiviruses that can protect your mobile devices and make you sure in their safety. The outstanding free antiviruses can be a great choice for your mobile phone.
Lookout Premium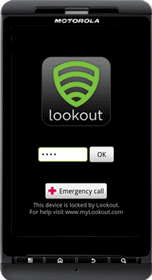 Looking for reliable protection against spyware, malware and viruses, Lookout Premium can provide it! These threats can both invade into your device and cause the damage, as well as to steal your personal information. Any download on your device may cause the virus spreading. Lookout Premium real-time protection won't let your personal data to be stolen or damaged. The real-time protection scans any received file for a suspicious data. Any infected file is eliminated without delay. Lookout Premium analyzes every application downloaded onto your device. The mobile security informs you which application has access to your location, messages or personal information.
You can back up all the data you want to save before anything emergent happens to your device. All your information can be saved online. Moreover, you can access it from your online account and place onto your new device if the previous was lost or stolen.
A loud alarm can be activated on your device if you had lost it. The silent mode is not an obstacle. The phone can also be located through a GPS system.
The data on the stolen device can be seamlessly wiped. You can use your online account to perform it preventing anyone to access your personal data. Lookout Premium even helps you to delete the information on the SD card in your device.
Lookout Premium is extremely easy-to-use. The scan can be run on-demand. You can also set up recurring scans. These scan your device for any malicious software and viruses. An activity log will inform you about any suspicious software found on your cellular device.
Your mobile security software updates may be received directly on your phone which will automatically update itself. All you need is the internet connection on your device.
Technical Help & Support
Adequate customer service is provided by Lookout Premium. Sad to say, there is no online chat support or telephone. Emailed question is the way out. You can write to a company and wait for an answer. Nevertheless, a FAQs section and small amount of online help is available.
Summary:
Lookout Premium provides you with the protection against worms, Trojans and viruses. A strong backup system and anti-theft features are available. Moreover, Lookout Premium protects your device against potentially malicious downloads. With Lookout Premium no dangerous files will damage your phone.
Trend Micro Mobile Security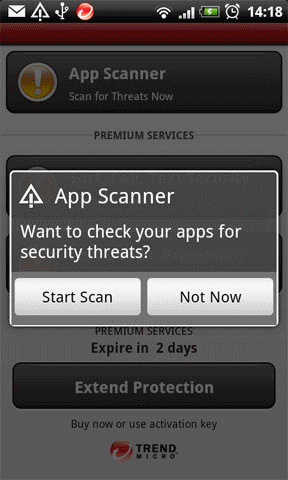 Trend Micro Mobile Security will protect your smartphone against viruses and assure its security. Viruses can damage your mobile device and be intended to steal your personal data. Trend Micro Mobile Security blocks dangerous websites using Smart Protection Network with which real-time protection is available. Viruses are immediately blocked and stopped from infecting your device. It should be noted that no firewall protection is provided.
The application allows you to block both text messages and calls. This feature offers you to avoid unwanted or unknown numbers.
Parental control features can block websites. With them you also can control who your child is texting or calling. The protection level on the mobile device can be set. It depends on the child's age.
There are features that help to protect your personal information in the case your phone is stolen or lost. You can even find it through these features. They allow you to lock the device as well as wipe all the data remotely.
The application automatically scans everything installed on the device. Every download will be scanned in order to prevent any potential threat. An activity log provides you with the ability to view the history of past scans.
The installation of Trend Micro Mobile Security is simple and quick. QR codes on the Mobile Trend website can be easily and quickly downloaded. It should be noted that the application is available for Android devices only. The usage of the application requires version 2.2 of the Android OS or newer.
Technical Help & Support
There are several customer support options offered by Trend Micro. Telephone, email and live chat support are available. A few online helps, including a FAQs section, are available on the Trend Micro website.
Summary
Trend Micro Mobile Security can be a perfect solution for those who have an Android smartphone. It will provide you with the strong antivirus protection, text and call blocking, built-in application scanner and parental controls. Unfortunately, the firewall protection and online user manual lack. Nevertheless, Trend Micro Mobile Security is strong enough to keep your device and personal data safe.
F-Secure Mobile Security
F-Secure Mobile Security will protect your smartphone from Trojans, worms, viruses and other malware. It easily detects and determines viruses on your device. F-Secure Mobile Security scans your smartphone for malware application and blocks them. Moreover, it offers you a firewall that helps you to prevent unacceptable programs. Unfortunately, the application does not protect the device against spam that can appear through messages or emails. Calls and messages from unwanted numbers cannot be blocked too.
Browsing protection feature is something new and unique in this program. This feature identifies potentially harmful websites and the application blocks them automatically. With F-Secure Mobile the transfer of the confidential information is more secure. Real-time protection provides continuous security.
A GPS locator function and remote anti-theft features are available. Once your device is lost or stolen, it can be locked so that your personal data won't be accessed. The information can be also wiped completely. Your phone location can be pinpointed.
The interface is very easy to navigate and the protection programming runs quietly in the background providing real-time protection of your smartphone. On-demand scans are also available. Moreover, you can opt for scheduled, periodic scans and check folders and files when it is convenient. Memory expansion cards and integrated memory of the phone also are protected.
F-Secure can be easily installed on your device. Just purchase it via download. Software updates are automatic. The phone updates itself as long as it has an Internet connection. This application is available for the Symbian, Windows Mobile and Android operating systems. The firewall functionality is not available for Android devices.
Online chat support and telephone assistance available 24/7 have been added. You can also email the company or find much helpful information in the FAQs section or online.
Summary:
F-Secure Mobile Security is a perfect solution for your smartphone. The browsing protection feature is a great addition to the software that is worthy of consideration.