Free Trojan Removers
Connection of most PCs to the Internet and networks simplifies the spreading of malware represented by Trojans or Trojan horses, worms, viruses, adware, spyware, Rootkits and many other malicious or undesirable applications.
Emsisoft Anti-Malware

The program provides scanning and malware, especially Trojans, removing them from your PC. It possesses reliable elimination of the Trojans including dialers, backdoors, keylogger and some other infections which make web-surfing dangerous.
Besides Trojans, Emsisoft Anti-Malware is also good in adware, spyware, viruses, worms, tracking cookies and Rootkits detecting and removing from your computer.
With a view to make it easy in using, the latest version of the program is designed as a combination of Emsisoft Anti-Malware and the Ikarus Anti-Virus device that allows to cut down on needless double detecting routines for one and the same malware.
The program provides such features as quarantine, online updates and heuristic scanning for unknown malware.
As for the free version, it does not possess other features like file guarding, behavior blockering and surf protection.

PC Tools ThreatFire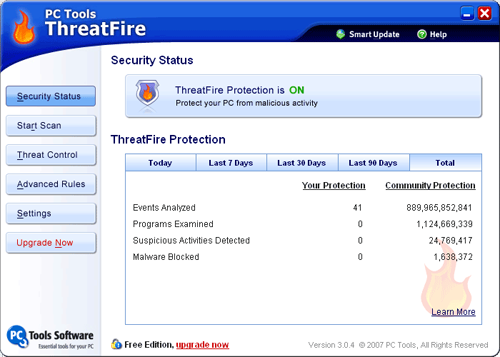 It is a good choice for those who prefer background guard. It provides effective security from both new and unknown threats such as Trojans as well as different types of viruses, worms, spyware, Rootkits and some other malware.
The program supports real-time behavior-based malware defence against known and unknown types of threats without need in scanning, but running always in the background, light on system resources.
ThreatFire provides automatically quarantine of known as well unknown infections detected for your system security. After quarantine has gone, you can choose to for long eliminate the threats from your computer.
On the program interface you can observe a world map of dominant threats like Trojans, viruses, worms and many other malware. One more thing, ThreatExpert Reports on the great number of latest threats found is provided with ThreatFire; more often more than 28% of threats found are Trojans.
ThreatFire feature can help you to determine new threats and to provide response to its Secure Community while you receive automatic updates from them. You will not be supported with automatic updates if you turn aside the Community.

Malwarebytes' Anti-Malware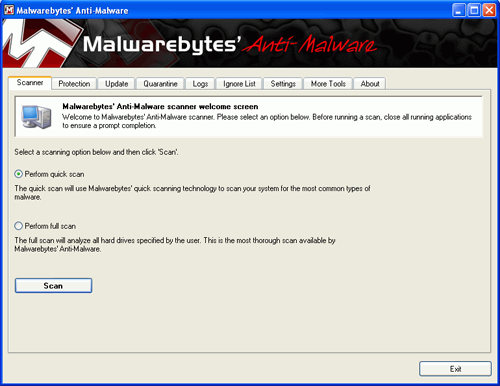 It is another option which can be well used for scanning and eliminating Trojans, as well as other malware like viruses, worms, dialers, Rootkits and spyware.
MalwareNET, also known as Malwarebytes' online database, informed that about 27% of all objects detected by Anti-Malware were Trojans.
Some other Malwarebytes' Anti-Malware features:
multiple-drive scan,
fast scan,
ignore list,
quarantine (for threats holding and restoring),
integration of context menu (for files scanning in require),
extra utilities (helping to remove malware manually),
and the program work enhancing settings.
It well cooperates with other anti-malware devices. The program has proved to work perfectly in Trojans removing from an infected system.
Nevertheless, features like real-time protection and scheduler are only observed in the full paid Malwarebytes' Anti-Malware version.

SUPERAntiSpyware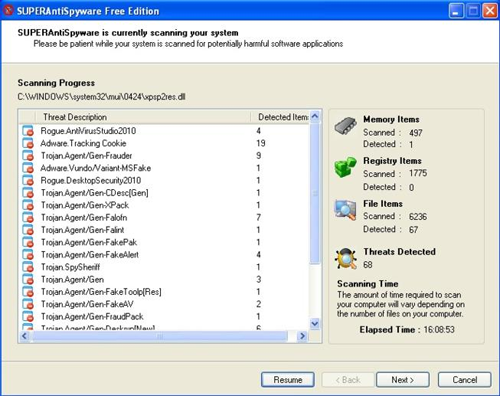 The program is also worth trying. Besides focusing on spyware infections detection and removing, this software deals with Trojans and such types of threats as worms, keyloggers, dialers, Rootkits, etc.
SUPERAntiSpyware provides
a fast scanning,
full system scanning
or custom scanning with trust points and except folders,
an option for latest definition updates checking before scan.
Along with other features, Hi-Jack Protection is included in the program for other application prevention, excluding for Task Manager, from terminating the software.
The free version of SUPERAntiSpyware does not provide real-time blocking, scheduled scan and some other options.

Other Kindred Software
There a number of other free Trojan scanners and removers exists which were brought up in information here or mentioned from other sources. These programs are not rated in our review; therefore, we provide the list of them with short descriptions below.
Rising PC Doctor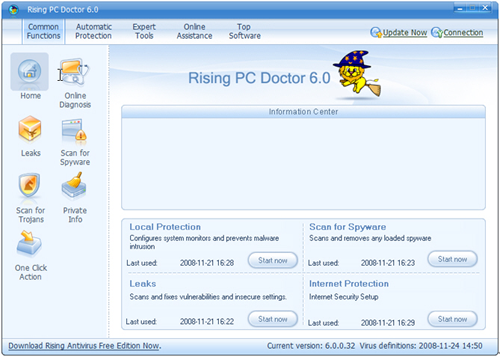 It includes a Trojans and spyware scanner and a tool providing automatic defense like Trojan Interceptor, Trojan Download Blocker among some other protections. There are some more options like service manager, process manager, file shredder, start up control.

FreeFixer
It provides your system scanning, Trojans and other infections removing but the user needs in the results interpretation. In case of infected files deletion an extra care must be taken to avoid your system damage.

SDFix
This free Trojan removal program written by Andy Manchesta is aimed at Trojans elimination among such other threats as worms, Rootkits, etc. To run the program the system rebooting into a safe mode is required.
Trojans
Likewise adware and spyware, Trojans can penetrate in your computer by means of different methods. A web browser, e-mail or software downloaded from the Internet may be explorers. Malware may be also accidentally transferred with a USB flash drive or other portable device. To remove the threat and avoid its spreading your USB flash drive or other portable media probably may need in reformatting. Replication is not common for Trojans, unlike for viruses or worms, but they are just as destroying. Trojans appearance is a rather benign and harmless, but the infection running causes Trojans cracking and performance of malicious acting to break the computer system being unnoticed.
Threats
It is obviously, Trojans provoke many treats for your computer. The following treats can be caused by Trojans:
Efface, overwriting or computer data corrupting;
Help in other malware spreading like viruses;
Deactivation or interfering with anti-virus and firewall programs working;
Allowance to remote access to your PC;
Unnoticed files uploading and downloading;
Using the gathered e-mail addresses for spam;
Keystrokes blocking to steal information such as passwords and credit card numbers
Sham links copying to false websites, display porno sites, play sounds/videos, display pictures;
Slow downing, restarting or shutting down your PC;
Themselves re-installing after being disabled;
The task manager blocking;
The control panel blocking.
To remove malware such as Trojans and protect your PC from threats they bring an effective anti-malware software is necessary.
Anti-malware and Anti-Trojan Programs
As more computer protection creators are enlarging their product capabilities to detect more than one kind of malware, the border between different kinds of anti-malware software is no longer exact and has become destroyed.
For instance, an anti-virus device like AVG Anti-Virus fights not only viruses, but suggests security from spyware, adware and other threats. With anti-spyware software like for e. g. SuperAntiSpyware you are able not only to detect spyware, but to remove Rootkits, Trojans and others. An anti-Trojans device is also able to suggest viruses, spyware and other kinds of malware removing.
These PC protection devices are more accordingly to be classified as anti-malware software rather than to be grouped by the name of the devices.
Thus, anti-malware devices created to detect and remove Trojans perform more effectively in comparison with others which we will review in this section.
According to design, the online database and the computer infectiousness, some anti-malware programs can detect more malware than the others in spite of their ratings in the review presented.