Free Antivirus for Android
Along with existing malwares, it is time to discuss antivirus apps for Android and specifically the most well-known of them. We have to say that they differ from each other in some way. Each of them offers something unique having wider or narrower range of features. Undoubtedly, the antivirus scan is their common thing. Some are rather good, some are not. In the following we will try to concentrate not on the interface but on their functionality.
EICAR Test Virus and Antivirus TESTFILE were used in order to test Antivirus apps. These files are to imitate the virus, so there is no danger for your system. These files contain one code line which should be detected as malicious by any antivirus. If you want to test your current antivirus program you can freely get them in the Android Market. They can be installed as standard apps without any permission requirements and are absolutely safe for your PC.
Let's use two different methods to examine the integrity of antivirus apps against the test files. Firstly, we install our test files on the phone before the antivirus installation, so that initial scanning will have the opportunity to reveal the code. Secondly, we deactivate each of the test files and install those ones more giving thereby a plenty of time to scanner to detect them. Let's look what do we have now.
NetQin Antivirus Free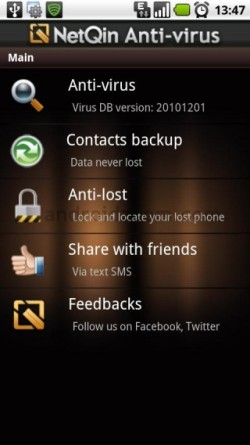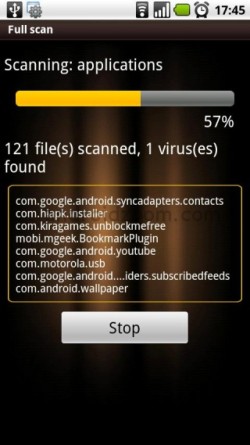 This responsible company suggests two scan types: Cloud Scan scans only applications whereas Full Scan realizes scanning of applications and contents of CD cards. Unfortunately, Cloud Scan didn't give the expected results showing failed connection at the end of each scan. The Full Scan in its turn worked well but didn't detect the files.
NetQin also suggests its own location service namely Anti-Lost. You can lock your device or delete all data from it via this program. To activate it you should send a SMS from other device when your phone is lost or stolen. So, it isn't useful because there is no guarantee you will have another phone near you.

Lookout Mobile Security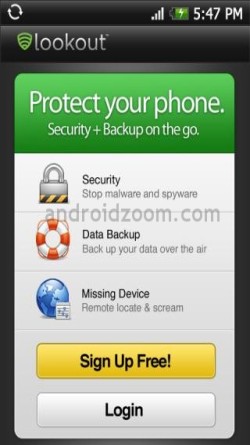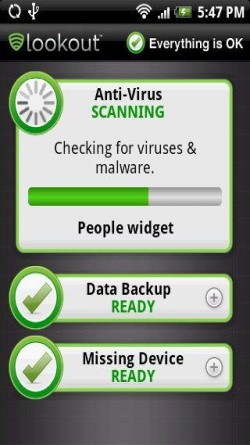 A first Lookout started a scanning process which took something about 1 minute to look through of 150 apps. Both of the test files were almost immediately detected and the program of course offered either to ignore or to remove them. After several uninstallation and reinstallation processes of the test files they were immediately detected by Lookout. Its notification system is basic. It gives the possibility to enable or disable the notifications at all. But it will scan any new application after its installation and notify you about it regardless of which option you choose.
In addition Lookout Mobile Security contains the feature to locate your stolen or lost device. It locks your mobile phone or wipes all data. If you have Lookout Mobile Security installed on your device you can easily activate this feature.

Trend Micro Mobile Security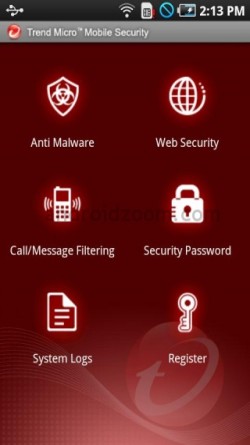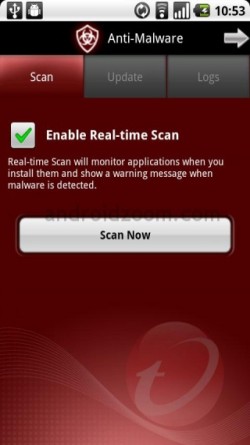 It is a trial version of the AV. It doesn't initiate the process of scanning showing only basic information screen. The user gets the opportunity to execute a scan and enable real-time protection when he/she use Anti-Malware menu. After rather fast scanning Trend Micro Mobile Security did not returned any results. So it didn't find the test files. We removed and reinstall them. The antivirus didn't detect them even after it.
"Web Security" is the most superordinary feature of Trend Micro. Thanks to it the parental controls can be enabled entering just a security password. Parental Controls is the content filtering based on the browser. The process depends on its specified level: high, normal or low. High level limits the access to the sites banned for the children under 13. Normal level blocks contents banned for children and teenagers. The low level allows no access to the violent and pornographic sites.
Call and Messaging Filtering is probably the most useful feature with Trend Micro. The user can select an option of rejecting calls from the numbers that are in the black list, which can also be created there. A white list (can be also created thanks to this option) allows you to receive call only from numbers that are included in it. "Annoying call protection" is another option thanks to which the call from "unknown number" (being defined as annoying) hangs up within several moments. Message Filter works absolutely in the same way as Call Filter. The only difference is that a text message from the black list can be followed by user-defined message sent by your phone automatically.

AVG Antivirus Free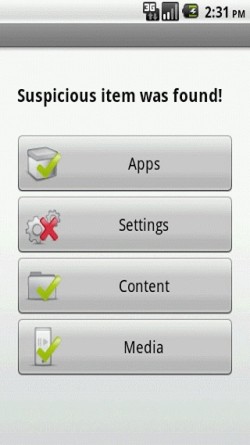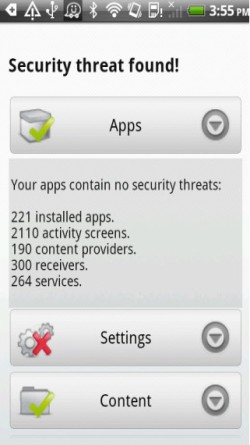 Versus others apps this one has more features along with many user options and several troubles.
When launched, AVG suggested a full scan, whereas the others started the scanning automatically. Its scanning options are of several types, including Settings, Media, Apps and Content. When the full scan was done, AVG detected that there was malicious software but didn't specified them. After choosing "ignore" it displayed the note showing which exactly app was ignored. Later it detected our test files. But the only false it made was its detection of Wireless Tethering and Superuser as viruses.
Anything that can harm your system seems to be found when setting scan works. It detects everything from enabled USB Debugging on out to the settings permitting to load apps from suspicious sources.
The Content Scan scans contacts, SMS messages and favorites. Scanned the device it detected the only message as being suspicious but didn't specify it.
Along with the scanner, this AVG Antivirus supports many other features. Not all of them are good enough. One of such "showy" features is a widget displaying the fact the phone is covered by the real time protection. Customizable notification displays "Belongs to … protected by antivirus" on the locked screen. Until the app is on your device and your screen is locked the place of the alarm time on the display is taken by the lock screen text. And even after disabling it the alarm time is not displayed. You should just remove the app to see the alarm clock.
Along with these features AVG contains a task killer. So it speaks for itself. Data backup option is also included, backing up system settings, SMS, application settings, bookmarks, MMS, call logs and contacts. A trial version of App Backup also is there.
AVG Remote Management connects to your Google account using the FindR service. It also includes web based interface. There user can scan, lock, disable, wipe and remove apps.

Norton Mobile Security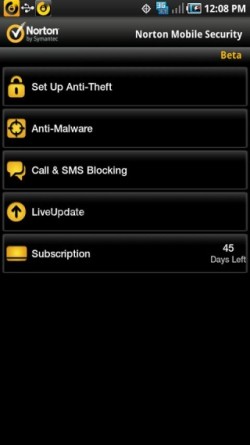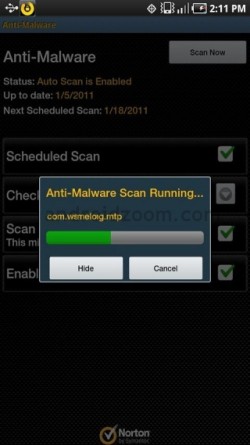 The initial launch began with ToS suggesting the user to forward "security info" to Symantec. A bit delayed scan started automatically and didn't give any results. It showed the system was "clean"! After reinstallation the same situation. The so-called antivirus didn't detect the test files as being malicious.
Its Anti-Theft options are proverb basic. The user gets the opportunity to lock, locate or wipe data from the list of "buddy" phones. The list is defined by the user him/herself.
Call and SMS blocking feature is also available with Norton. It works well enough. User creates the block list. Then he/she select an option of rejecting calls or sms, or both.

Conclusion
We can with certainty confirm that the market of mobile antiviruses requires something better. Sure, Lookout and AVG were the best ones. AVG is good providing a lot of features, but is not recommended for the rooted users. As for Lookout it has minimal approach being a bit easier.
If you are looking for any sort of advice we hope our article will help you.