Avast Antivirus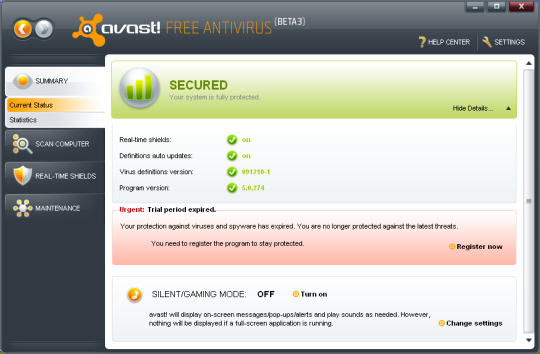 The free "home edition" of the Avast antivirus which has free antivirus applications is very popular. But the paid Professional Edition is very good. There are plenty of good features available in Avast antivirus. It is very comprehensive antivirus software due to its effective security features.
You can find great features of P2P Shield, innovative 'radio' inference, PUSH updates and various skins.
Scope of Protection
There are several layers of protection included in the Avast Antivirus Professional Edition which can provide safety and security to your computer and resources from different angles. Avast antivirus can be very good as there is built in protection from rootkits, spyware, Trojan and other threats. You can easily protect your computer from malware with this antivirus. These malware can damage computer by spreading through email. You can detect these malware by scanning both inbound and outbound messages with Avast which also has an integrated IM shield. There is also protection available for many P2P file sharing applications in this antivirus.
Effectiveness
It is really effective antivirus software due to its great features. It has VB100% Virus Bulletin which is certified and can catch 100% of in the wild viruses. The proactive and reactive scanners of this software are also very effective with combine score of 7.14 and no false positives.
Avast is top notch which is agreed by AV comparatives as it has one of the best detection rate in the industry which is 98%. Avast Antivirus Professional Edition is deemed as one of the 7 best overall solutions by AV Comparatives and it is given Advanced A+ rating.
Ease of Installation
The good thing about Avast Antivirus Professional Edition is that it is easy to install and setup. You might need to restart your computer once program is installed in order to run preemptive scan which can locate and remove deep rooted viruses interfering with setup. The installation of this software is easy and straight forward and there is no need of additional setup. The scanning engines of this antivirus are very effective but these will affect on the speed of your computer. It is a speedy program and this software is remarkable efficient with resources. The scanning of this antivirus is clocked by 17.4MB/second by AV comparatives which are on par with Norton and it is faster than many competitors.
Ease of Use
You can be able to do most of the work behind-the-scenes with Avast to provide protection to your computer without much user interaction. This software scans files in real time, on access every time you open without noticing it. The skin-able interface of this software is very attractive and easy to use. The advanced interface of this software is not very attractive rather bit cumbersome. The average users need to set scan schedules and running manual tasks in advance mode.
The battery saving mode of this antivirus is very convenient feature for laptop/netbook users. You can easily optimize Avast by selecting few options. The scan will not start when there is low battery power of your notebook. It can automatically stop scanning during the process if there is low battery in your laptop.
Features
All essential features are included in Avast. The interface of this software is very unique element. There is a radio style interface in the default dashboard which has included all major components packaged in various buttons like scan button as 'play' button. It is very easy to figure out when it is taking a minute to get down the control scheme and refreshing as well. The application of this software can be customizes very easily if you don't like this interface as there are 35 skins available ranging from Star Trek to Spiderman to Vista themed.
Updates
There are updates available in Avast which is effective antivirus protection. You can receive regular virus signature updates on the daily basis which can be checked manually. The updates are delivered immediately by the Avast when there is new update on brand new "zero-hour" malware on Avast network. Avast initiate "PUSH" updates and speedy delivery of most up to date security measures are ensured.
Help & Support
There is support-in program included in Avast which is also available online. There are answers available to your question online with user guide, support forum or knowledgebase. Email can be sent to support department after registering if there is specific question.
Summary
Avast Antivirus Professional Edition is one of the best antivirus software available and it can be great choice. It is very effective as well as efficient software. The simple skinned interface of this software is very good. We will certainly recommend you this software due to its great features and better product support.