Avast & AVG Antiviruses Awards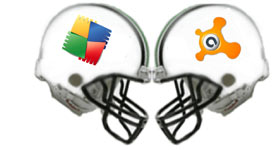 Commonly, Avast & AVG Antiviruses are the most popular security software used on the market. Awards taken by both security software providers are the confirmation of this fact.
Avast Free Antivirus earned VB100 award in the Virus Bulletin comparative review for Windows 7 dated August 2012. Its score was 100%. Perfect! According to the comparative review, Avast Free Security accurately determines warms.
Meanwhile, PC Pro award for best free Antivirus was earned by AVG. the antivirus software gets about 130 million of good feedbacks. The PC Pro Excellence Awards reflects user's opinion about security products and their reliability, performance and value. This award is a confirmation in the requirements of AVG Free Antivirus as well as the satisfaction of its users.
AVG Free Antivirus protects against 98% of the malware. it is fully security package that performs careful piece of work and protects your PC greatly.
Remember, suits are free. These awards confirm that people trust their security to the best antivirus programs that are designed with great efforts to provide best security and protect all their users!