Avira Antivirus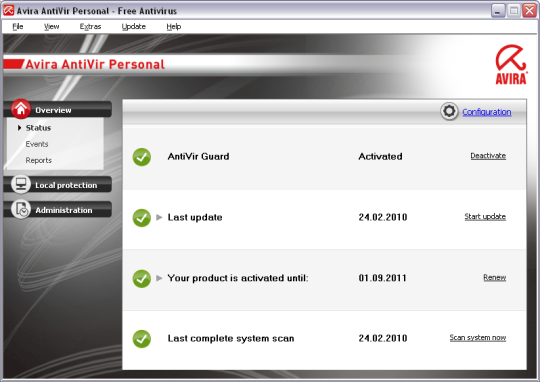 Avira AntiVir Premium is one of the best antivirus software as it provides excellent efficiency and advanced technology. Avira has large number of users all over the world as it has over 20 years of experience under their belt. The users like the free version of Avira and its paid version provides great solutions of protection.
The standout features of Avira AntiVir include AHeAD (Advanced Heuristic Analysis and Detection), protection from drive by downloads and impressive detection rates.
Scope of Protection
Avirs antivirus software is very good as it can provide protection against malware, dialers, rootkits, adware, spyware and malicious scripts. There is advanced protection available in paid version of this software which can protect your computer from number of online threats, phishing scams and drive by downloads. There is an integrated email scanner available in Avira Antivir which can check malware and viruses sent and received through emails. You can consider upgraded Avira Internet Security Suite fro protection from bot networks and spam.
Effectiveness
Avira is one of the leaders when it comes to effective and thorough antivirus scanning. Avira is completely capable of protection your computer from 100% wild viruses. This software is also found very effective in recent tests of Virus Bulletin. The combined proactive and reactive protection score of Avira was 88.5% which is remarkably high. Avira is found to catch 99.8% of the malwares by the AV comparatives which is second highest after 99.8% from G DATA. There were over 20 false positives found in Avira due to which it got Advanced rating and not the A+.
Ease of Installation
You can be able install Avira completely within 9 minutes and installation process is easy and straightforward. You can be able to setup this software easily and first scan will start automatically in no time. Avira is one of the most effective as well as most efficient software. The scanning speed of the Avira AntiVir Premium was clocked at high rate of 14MB/sec. This software ran very low system resources usage when idle and it can ramped up significantly during scanning. It will not result in any slowdown of computer for most of the users and it is fairly resource conscious antivirus software.
Ease of Use
There is an intuitive interface available in Avira antivirus with easy-to-use controls. There will be no problem for the users to set schedule scans and customized scanning parameters. It can be very good software for the beginners as well as experienced users. There will be no need to use this program regularly as this software runs automatically to provide your computer protection without having constantly update or monitor the software.
Features
There are plenty of great features included in this antivirus software due to which security and performance of this program has increased. The scanner of this software can also work in real time. The files are scanned when accessed in no time before their opening. You can also be able to create bootable rescue disk with this software. You can easily burn a disk with this feature in order to use it in case of emergency. This bootable disk can be run in case computer crashed unable to restart properly. This disk can easily carry out the cleaning process of the malware so that you can be able to run your computer smoothly. There is use of advance technology in this software which provides constant security from virus. The files can be analyzed dynamically by Avira due to proactive AHeAD technology for specific behavior or characteristics appeared due to malware entering into your computer. The virus protection is made possible for those viruses which are not written in virus signature with this approach.
Updates
The computers can become efficient and less invasive with regular updates. There are ergualr updates available in this software which are carried out after every two hours. You can also set these updates manually. There will be no problems for proxy server users in updating and scheduled updates can also be done.
Help and Support
There is decent online support available in Avira. There is FAQs section and knowledgebase included in this software as well. The support forum can provide additional support to the users. There is no support available through email, phone or live chat.
Summary
This software is very good in business and there are number of great features available in this software. This software is very effective although you might not find some convenient features like silent gamer mode. There is need of low false positives in this software. You can see antivirus comparison in order to see its effectives as compared to other antivirus programs. We will certainly recommend this antivirus as very good security software.