Bitdefender Antivirus Plus 2013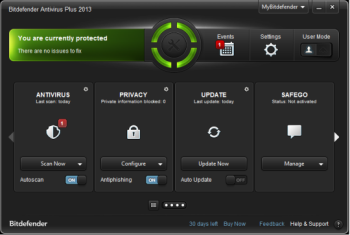 The best antivirus technology for Windows is what Bitdefender Antivirus Plus 2013 is build on. Its technology is designed to quietly secure online transactions, prevent e-threats and keep your privacy on social networks in security. All hackers are kept away.
Bitdefender SafePay automatically opens your online banking pages in a secure separate browser. It os a stable secure helper when banking or shopping. MyBitdefender dashboard allows you to overview all the licensing and status information about your services and software. Security Widget provides users with the opportunity to track any of your security related tasks right from your desktop. Drag-and-drop files for prompt scanning for viruses can also be tracked. Parental Control monitors your children's online activity by restricting Web access and blocking inappropriate content. Any Flash Drive connected to your PC is immunized by USB Immunizer. A dynamic and proactive detection technology, Active Virus Control occupies with the real-time monitoring of the processes. It also tags suspicious activities. AcRescue Mode is used in case when e-threats cannot be deleted. Due to this mode your PC is re-booted in a trusted environment. This environment will later be used for cleanup and restoration processes. Vulnerability Scanner checks your PC for missing Windows security patches and outdated or missing security software. Bitdefender Autopilot makes optimal security-related decisions without your interference. Social Network Protection scans the links you receive using social networks and blocks or filters e-threats there. Antiphising analyzes websites that support different credit card phishing or scams attempts and blocks them. Due to Personal Data filter your critical data will never leave your PC. Search Advisor helps to flag phishing and malware attempts in search engine results. When your system resource usage falls below a certain threshold, Scan Dispatcher finds time slots and uses them when your entire system is circulating scanned.
Version 2013 includes several new options as USB Immunizer, Bitdefender SafePay and Device Anti-Theft. The Antivirus is Windows 8 Compatible.