Eset Nod32 Antivirus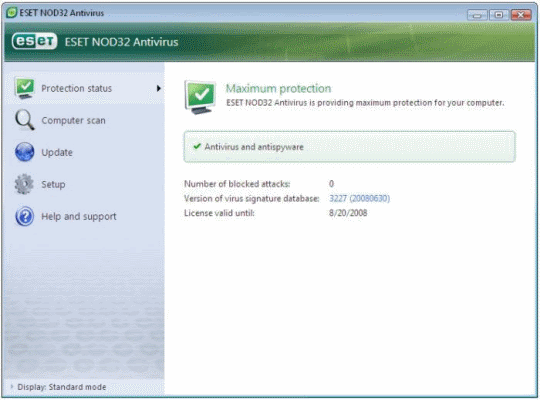 Eset Nod32 Antivirus provides great security and protection with its advanced features. This program is very good for home users who need simple security. This software is easy to install and work with. This program has proved to be one of the best anti viruses and its new version Eset Nod32 Antivirus 4 also has same features.
The standout features of Eset Nod31 Antivirus include small and unobtrusive updates, silent gamer mode, ThreatSense, heuristic proactive detection and SysInspector.
Scope of Protection
The scope of protection of Eset Nod32 Antivirus is on par with other top antivirus competitors on its security level. All essential features and technologies are included in this program to provide protection to your computers against viruses, Trojans, worms, malware, rootkits and spyware. It can also provide complete protection to online users. There is protection available in this program from adware, dialers and keyloggers from behind the scene. The email protection is made possible with scan email feature in this program for viruses and malware. It also scans files when external medium is plugged in to protect users from auto running external media.
Effectiveness
This antivirus program is near the top in independent tests for viruses to prove its effectiveness. It is very good in efficiency and efficacy. The reactive and proactive scanning of this antivirus program was very good without any false positives in recent tests from Virus Bulletin. But there were some false positives found in recent evaluation from AV comparatives. The detection rates were found to be 97.2% which is very impressive. This program was granted A+ rating from AV comparatives.
Ease of installation
Eset Nod32 Antivirus is very easy to install and implement and it can run easily from get-go. You can set manual scans and scheduling very easily in this program. It can also be setup in the background and can run automatically. It can also create bootable disk which can be used in case of emergency. The users can be able to delete infected files while working with Microsoft Windows Automated Installation Kit.
Ease of Use
This program is very simple and easy to use and it is very good for beginners. There is no need of tweaking or manual maintenance to keep running it properly. It has very simple and straightforward user interface. There will be no problem in navigating this program as there is logical setup available. The beginners can use default setup and advanced mode with more functionality can be used for standard or advanced home users. It is very easy to report logging, scheduling and adjusting settings in this software. There will be no need of much intervention in Eset Nod32 even there will be no need of your input. All security issues can be taken automatically by this program. The new keyboard shortcuts are included in this program for an easy navigation.
Eset nod32 is very good in speed. You can find most advanced scanning technologies in this software. The security and advanced protection is maintained by this program and it will not have any effect on speed or processing power of your computer. The specific mode which is incorporated in this program can be turned to optimize performance for laptops. There can be great protection provided by this program in the form of 'energy-sipping battery mode' without using laptop battery.
Features
There is comprehensive feature set included in this program. All basic features are available in Eset Nod32 which are helpful in enhancing protection. These features are simple to use. There is use of heuristic technology in Eset Nod 32 which can catch those viruses as well which are not present in traditional signature yet. There is proactive protection provided by this software from malware with its refined ThreatSense technology. It can also protect from viruses which can pass through signature very easily. The files can be scanned in real time or on-access when these files are opened or executed. It ensures that there will be no problem for computers with these malicious files. There will be no need to wait for Eset before opening any file. The real time scanning can start immediately and it runs in the background. There are many software companies which are using large community networks of their users to increase their numbers. The users can have quicker protection with ThreatSense network of Eset in which each user serves as 'watch guard' for other users. If there is any virus detected on your computer, it is immediately identified to get protection for everyone.
Updates
There is use of multi layered security approach along with virus signatures in Eset. There are regular updates available which keep on running automatically in order to keep signature database current. These updates normally run in the background and there will be no problem for users as these are small enough.
Help and Support
There is additional help and support provided by this software when it is needed. There is complete and detailed in-depth product manual available. The additional support resources are also available with in-program links. The users can be able to get answere of their questions from knowledge base of specific product. There are help forums available as well. The product manual is also available online. Specific questions can be asked by submitting online form which can be responded over phone or email.
Summary
The antivirus software from Eset Nod32 is one of the best antivirus software which provides comprehensive antivirus protection. This program is very effective in terms of speed. You might find some better antivirus solutions but this program is certainly one of the best.