G DATA Antivirus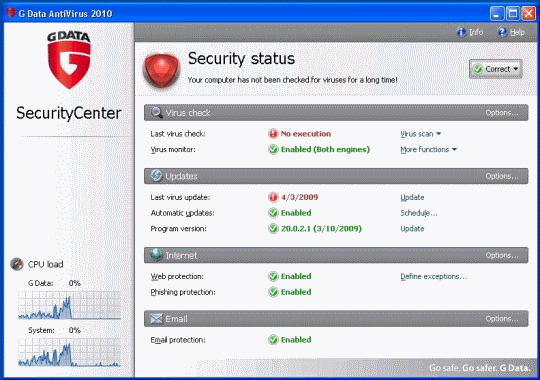 G DATA is one of the best antivirus software in the industry as it has the experience of over 20 years in antivirus manufacturing business. Its continued growth shows with their simple and valuable security software. It has high level security software which are easy to use.
G DATA antivirus standout features include Heuristics scanning, safe internet experience and 2 scanning engines.
Scope of Protection
G DATA provides comprehensive protection although it isn't a full security suite. There is complete web protection provided by this software combined with antivirus and antispyware protection. This software can protect your computer from number of online and offline threats, dialers, adware, Trojans, worms, rootkits, phishing scams, malicious scripts and more. There is advanced protection from malware which can spread thorugh email incorporated in this software. The sent messages are scanned outbound for viruses and other malware by this software.
Effectiveness
The protection level of G DATA is second to none as it delivers consistent maximum protection. There are two distinct virus scanners utilized in it. This antivirus is performing very well with the help of third party testers. This software is found in tip top shape by AV comparatives. The scanning speed of this software is 9.3MB/sec which is more than adequate and its detection rate is the highest with perfect score of 99.8% and it has Advanced A+ certification. This antivirus also has very good Virus Bulletin which is VB 100%. It has outperformed everything which is not performed by most of other antivirus programs. It is bit slower than other programs but it is very effective and thorough in detecting and removing viruses and malware which is the most important thing.
Ease of installation
You can be able install this antivirus within 10 minutes which requires only one restart. It is also very simple to download and install. The additional setup of this software is quick which can help you in customized settings and schedule scans. There are two scanning engines used in G DATA antivirus but it doesn't take twice as long as other security software. Actually this software is resource efficient and fast. The software was clocked 10.7 MB on idle during tests 12.4MB while running a scan. It is certainly better than many other programs as it doesn't cause any system heartburn.
Ease of Use
This software is very simple to implement and use. There should be no problems for advanced users in manual using the program and monitoring performance. There will also be no problem for the beginners or those users who just need to work without much intervention as G DATA runs in the background.
Features
There are all essential features and tools included in G DATA which can keep your computer safe. There are plenty of extra features available in this software although you might not find features that add convenience like password protected settings, silent gamer mode and laptop battery mode. G DATA has unique integration of 2 separate scanning engines. The efficacy can be increased by running both engines and it wont slow down you as well. The virus signature database is the heart of any security software while there is plenty of overlap with two scanning engines. Self learning fingerprinting and whistling is another impressive feature of G DATA. The files can be analyzed automatically by this software to determine if they pose a threat.
Updates
This software is very good for set and forget users as updates are performed automatically in the background. You can update signature definition and actual programs manually as well as automatically. There are regular updates in every hour and these updates will not affect your computer use. You can easily setup the software to update with your proxy server when you are using G DATA at work.
Help and Support
There is typical in-program help files and traditional help available in G DATA antivirus. You can also contact help as there is emergency phone line available for immediate assistance. You can also chat with support online or support forum.
Summary
G DATA is a great desktop antivirus solution for the users. It is one of the most effective and resource friendly software. You can consider G DATA total Security or compare G DATA with other reviewed antivirus products for more advanced protection.