McAfee Mobile Security 2.0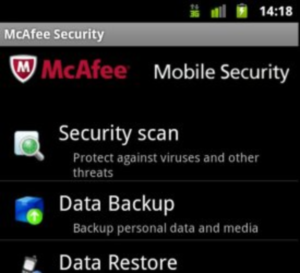 McAfee Mobile Security latest update provides an access to app permissions. It also provides you with a filter that allows you to screen out communiqués.
McAfee Mobile Security 2.0 appeared on the Android Market recently. Already-robust set of options for BlackBerry, Symbian and Android users is now supplemented with two new features. The new App Protection analyzes apps' handling of your private and personal data, then informs you about potential danger of app permissions. Although, it won't advice you what to do. So you should think about those risks be yourself. Here we could mention that there is no other permissions scanner that do advice.
As McAfee claims, the Symbian and BlackBerry versions will be available soon. The BlackBerry version is scheduled to the next week. There is less info about the Symbian version.
A new call and text-messaging filter is available now. This blocks texts and calls that are based on a basic blacklist. Among features from the previous version are anti-phishing and anti-spyware guards; antivirus scanning; link scanning courtesy of the McAfee SiteAdvisor engine; and Potentially Unwanted Program protection that prevent commercial adware, dialers and spyware from taking root.
Among anti-theft guards available are remote device wipe, lock, restore and backup; phone tracking and locate; unauthorized SIM replacement notification. An online management Web sit available provides you with the full access to the McAfee interaction.
If you are looking for a solid security option for tablets and phones, McAfee Mobile Security will be a perfect choice. Seven days you can enjoy it for free. A one-year license will cost about $30. Price and features fit together.