More than 6 million malware samples were created in the second quarter of the 2012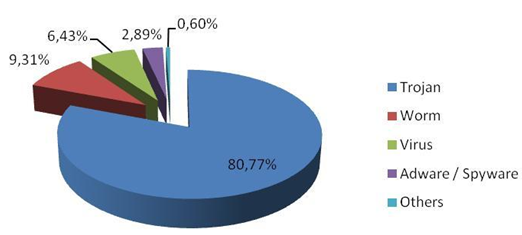 PandaLabs announced that more than 6 million malware samples were designed in the second quarter of the 2012. According to Panda Security's Collective Intelligence data, at about 32 percent of PCs across the globe were infected.
Asian countries are on the top of the most infected. South Korea is a leading one. It is on the top for the first time over its history and up by about 3 percentage points if compared to the first quarter of 2012 year. The second place is taken by China with about 52 percent of infected PCs. Taiwan and Bolivia follow it with the third and fourth places respectively.
The list of the ten least infected countries includes 9 European countries and Uruguay. Switzerland has 18 of infected PCs and Sweden has 19 percent.
Among 8 countries with the fewest malware infections are the United Kingdom, Ireland, Holland, Norway, Hungary, Germany, Finland and Uruguay.
According to the technical director of PandaLabs, Luis Corrons, the most technologically advanced nations of the world dominates in the list of least infected countries. South Korea is the single exception. Undoubtedly, these results could be influenced by some other factors as the connection between malware infection rates and technological development of the countries.
The first place among the most of the new threats created this quarter take 79 percent of Trojans. 10.8 percent of worms' samples are on the second place while 7.5 percent of viruses are on the third. About 3 percent of spyware and adware samples occupied the last place in the list.
It is important to claim that viruses are on the third place this year whereas dominated on the second during the last. The second position was possessed by worms. There are 11 percent this quarter whereas there were 9 percent last quarter.
Trojans also topped the ranking when we speak about the number of infections caused by each category of malware. They caused 66 percent last quarter. The number increased to 76 percent this quarter. Viruses and their 7.9 percent are on the second place. Worms follow with 6.7 percent and take the third place.
According to Corrons, massive worm epidemics that were well known are filed as a history whereas such specimens as the Police Virus and banking Trojans replaced them.