ParetoLogic Antivirus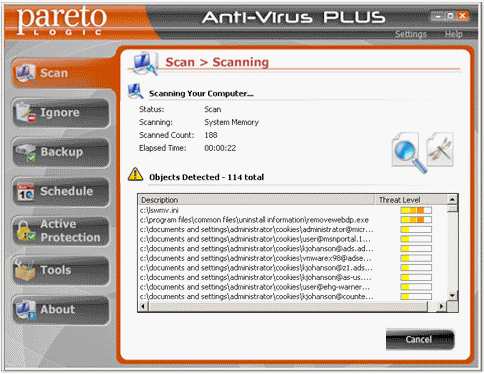 ParetoLogic Antivirus PLUS is a nice program but we can not describe as most advanced software. But still this software is good and effective due to some good features.
The standout features of ParetoLogic include small scanning footprint, protection from malware and good anti-rootkit.
Scope of Protection
This software program is very good in detecting and removing different malware, adware, spyware, dialers, keyloggers, rootkits and Trojans. There is virus signature available in ParetoLogic which is updated regularly and can provide protection from malware very effectively.
Effectiveness
There is very little user intervention in this software as it is very effective antivirus program. This program is certified by West Coast Labs for providing effective solutions of removal or viruses, Trojans and spyware from your computer. There is very good graphical representation shown to the users about relative threat level if there is any suspected or dangerous file detected by this software. You can get additional information about the suspicious files just by clicking on it. The infected files can be removed very effective by this antivirus program.
Ease of Installation
There will be no problem for the users to download and install this software. It will take only 7 minutes to installs and there will be no need to restart your computer after installation. The scanning will start in no time after installation. You can download this software directly from its website paretologic.com. You can find free trail version but it will have only scan feature and it will not remove malware unless it is activated. ParetoLogic is resource efficient. It uses only 3.8MB when computer is idle and 12MB is used when scan is running. It runs in the background and you will not notice it.
Ease of Use
The interface of the ParetoLogic antivirus program is not very impressive but it is very simple and intuitive. You can perform updates, scans, custom scans and scheduled tasks very easily as whole process is explanatory. You can have full scan, quick scan or customized scan in this software. You can be able to decide specific files and folders for scanning with the help custom scan.
Features
All essential features are included in ParetoLogic antivirus program. You can run schedule scan automatically but these scan can be run manually as well. You need to find out specific file on your computer if you want to scan it for viruses. You can scan this file just by right clicking on this file for immediate scan. Cyclic detection is another advance feature of this great antivirus software. Some of the malware might write new entry on the registry even after being detected and blocked which can cause popup to display and this popup keeps on repeating. This repeating pattern of popup is identified by the ParetoLogic and block option will be disabled temporarily due to which system scan starts for removing this malware.
Updates
The files in this software for virus definition are updated automatically on regular basis. The manual scan can be performed at any time and you can also perform schedule updates in this software. There is update available through proxy server as well.
Help and Support
There is detailed in-program help available for the users and online support is also available. The users can find FAQs section and online community to provide feedback. You can also read blogs in order to get help. This software can also be found on Twitter. There is no support available over phone and you need to get registration in order to submit an email request.
Summary
It is a good software program but it is still not up to the competition. You can download free trail version of this software to find out its effective working.