Sandboxing or keep your personal computer safer.
Sandbox is a perfect solution for those who want to avoid malware infections on their computers. Nowadays, malware and viruses is a widespread problem. If your antivirus software does not satisfy your expectations or you think it's not sufficient, a sandboxing application set up can deliver an extra security level for your computer. This will protect you from an unwanted malware and keep your personal information more secure while you are visiting potentially dangerous websites or are shopping online.
Being a form of software virtualization, Sandboxing allows processes and programs run in its virtual environment isolated. As a rule, programs running within the sandbox have partial access to your system and files. No permanent changes can take place. Sandbox keeps everything that happens inside.
There exists a number of programs dealing with sandboxing that is supported by some antivirus programs too. Sandboxing functionality is changes between programs. Some of the common uses are presented below:
Unknown programs containing any malware are manually or automatically run in the sandbox.
Browsing is the most widespread original cause of the malware. Your web browser can be run within the sandbox. This helps to prevent any infections while browsing.
Your browser can be run within the sandbox. This will help to prevent the existing malware to capture your payments details for online-shopping or your credentials.
Programs can be run parallel with the other programs in Windows. Some sandboxing tools can have a different feel and look. They can load separate environment and ask you to reboot your personal computer when exiting the sandbox.
Comodo Internet Security and Sandboxing
If you are looking for a free security suite, Comodo Internet Security will be ideal for business or personal use. It includes firewall and antivirus components. Manual and automatic sandboxing is supported into the program too.
Automatically detected suspicious programs and files are run in the virtual environment. Any other program can be manually run in the sandbox . You have just to select the program to be run via the main application window of Comodo Internet Security.
Sandboxing in Comodo Internet Security is extremely effective in automatic protection. It is also perfect for manually running of suspicious downloads from time to time. Sandboxing suitable for Web browsing can be found in such utilities as Sandboxie and Avast Antivirus.
Avast Antivirus and Sandboxing
Alongside with free antivirus programs, Avast provides provides premium versions too. Free program intends for personal use while premium is perfect for commercial use and contains additional features. When Avast Free Antivirus supports auto sandboxing, Avast Internet Security and Avast Pro Antivirus provide manual and auto sandboxing.
Every Avast software perform an automatically running of each suspicious program in the virtual environment. You will be undoubtedly announced about coming action. Avast settings allow you to determine programs you don't want to be automatically run into virtual environment. You can change settings anytime you want. All you need is to click a program anywhere in Windows and select the option desired.
Avast provides you with more sandboxing options via right-click. Moreover, you can specify the program to be always run sandboxed even if it is opened normally. Avast provides you with more customizable sandboxing settings. One of these is to limit a number of application sandboxed that access the Internet.
Automatic sandboxing is great with Avast Free Antivirus. Avast paid products can provide you with Web browsing protection and manual protection. . Premium editions are perfect for manual sandboxing. But still if you are looking for advanced customization, you can try another application - Sandboxie.
Sandboxie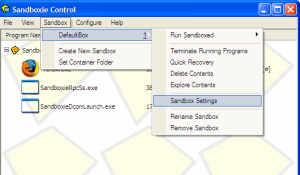 During thirty days this shareware utility can be used for personal use absolutely for free. Sandboxie provides you with the ability to open email client, Web browser and many others in the sandboxes that are highly customizable. You can also create multiple sandboxes. Being highly customizable, a sandbox is run in a separate virtual environment. Each of sandboxes contains its own data. For example, it is possible to use separate sandboxes for browsing suspicious sites or running programs and for performing online shopping or banking.
One default sandbox will be created for you. Just click Sandbox Control-Sandbox-Create New Sandbox when you want to add more.
Unfortunately, Sandoxie does not provide automatically sandboxing of suspicious and unknown programs. Instead it offers:
• To Open any program via the application.
• To Open the default web browser within the sandbox.
• Sandoxie items can be opened from the Start menu
• Any program can be opened via Windows.
Sandboxie registered version allows the user to specify the programs to be sandboxed automatically. Meanwhile, they can be normally opened.
Each of sandboxes contains the information about the programs run inside it. Once you run a Web browser, the sandbox will save temporary files and browsing history. All the information can be deleted at any time.
Sandboxie always offers you to recover files saved from sandbox programs or downloaded within a sandbox browser. This option provides you with the ability to save any file on your regular drives. If you don't want to recover files, you can make it later.
This shareware utility will be perfect for daily usage as well as for Web browsing. Unfortunately, the application does not provide the protection against malware.