Webroot AntiVirus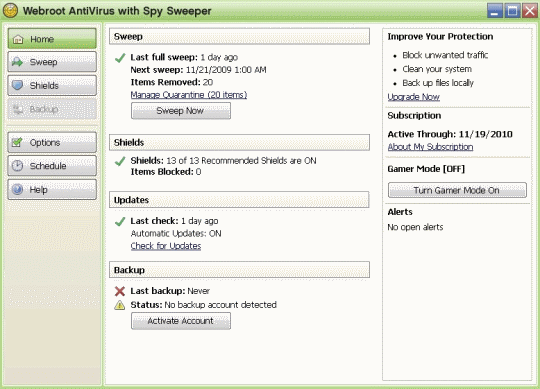 Webroot AntiVirus with Spy Sweeper is security software for virus and spyware removal. This software has provided effective protection and performance with its effective features. The users can have all the right components in this program which have made it one of the best antivirus programs. There is need of advanced protection against prevalent threats. It is very important for the users to protect their computers from viruses, malicious hacking tools, rootkits and exploits. The users can have complete protection against all types of threats.
The standout features of Webroot AntiVirus with Spy Sweeper include Gameer mode, proactive heuristic detection for zero-hours threats and free remote file storage.
Scope of Protection
It is comprehensive desktop antivirus program which can provide protection from many threats coming from different sources and there are several layers of protection available in this software to keep your computer safe. You can have protection from all types of viruses, Trojans, malware, worms and rootkits. All sorts of malicious files, keyloggers, cookies, dialers, and adware can be detected and sorted out. You can protect your computer from variety of threats with amazing anyi-spyware software. This software not only detects malicious files but it can also remove them effectively. It can also remove associated registry entries. You can keep your information protected from identity thieves and hackers with the help of defensive technologies of Webroot. There is also proactive technology found in this program in order to find malware before any chance of entering into computer. It is very important for the users to have advanced protection because there are many threats which can bypass the traditional signature scanning. The files can be analyzed for malicious behavior with zero-hour protection of Webroot. The files which are proved to be virus can be blocked and deleted effectively with the help of this program.
Effectiveness
There are 16 protective shields available in Webroot AntiVirus with Spy Sweeper with protection is made possible over network, Windows, web browsing, email and startup programs. You will remain safe online with these shields as exploits and other threats are blocked. This shield is available for incoming and outgoing messages and there will be chance of accidental forward threats. The two powerful components antivirus and antispyware are included in this program. The antivirus component can be used for business security and Webroot Spy Sweeper manages the antispyware element. This software has got certification from West Coast Labs and ICSA as an effective solution for anti-malware, antispyware and anti-trojan. There is high level of protection available in this program from spyware and malware.
Ease of Installation
This program is easy to install and use. There can be some initial setup when software is being installed. It can take some time to install but you can have control to the setup of software completely. You can leave this installation unattended after this process. WARN which Webroot Automated Research Network is also included in installation process of this software. The Webroot can have anonymous information with this feature about proactive network approach and you will remain on top with this approach. You can set weekly sweep to perform during the installation as well which can be configured with online backup. There is partnership of Webroot with Ask.com which can be beneficial for the users.
Ease of Use
It has intuitive interface with simple tools for all types of users. There are tabs available for simple navigation and you can also have access to major components of software. There are about 1.5 million virus definitions included in search engine of this program. The found threats can easily be placed in the quarantine area after completion of sweep. The scans or sweeps of this program are very simple. There is option for users to choose from full sweep with complete scan and quick sweep with search of commonly threatened files. The Windows registry, all drives, compressed archive files, memory and executable programs are scanned in full sweep. You can go for custom sweep for specific files. These sweeps can be made to run on specific schedule. There will be no problem for users as these sweeps run in the background. The users can be able to access most common commands from Windows taskbar notification area. Single file can also be scanned easily anywhere in your computer with simple right clicking and then sending it to the software for virus check.
Features
There are very exciting features available in this program which is very good for security. There is local and online backup available. 1GB storage space available for free and additional storage space is also available on purchase. The files can be analyzed automatically during the installation of this program. The files from desktop, my documents, favorites and my pictures can be used for backup. Its backup solution is robust which can provide security to important files and you can be able to access these files anywhere. Secure links in emails can be sent to friends and family to share files and there will be no problem about accessing these files. Gamer mode is another nice feature of software which can be turned on with click of button. You can be able to enjoy full screen computer games, videos and presentations with this feature and there will be no interruption. There will be no problems about forgetting toggle to full protection.
Updates
It is very easy to keep your security up to date with the help of Webroot. The updates can be setup automatically on regular basis. These updates can also be setup at any time you need with the help Version Guard technology of Webroot. There is real time proactive protection available in this program and files can be analyzed to look for malicious behavior of files.
Help and Support
It is very easy to use Webroot antivirus program but extra help is also available if needed. There is in-program help and additional online resources available. The users can access free phone help and help through emails at any time. There are specific guides for users and FAQs section in this software. The users can avail premium support for virus removal, security optimization and PC tune-ups but you have to pay extra for this.
Summary
Webroot Antivirus with Spy Sweeper has become very effective security solution with scanning engine and sitspyware protection. All essential features are included in this software. There are added value beneficial tools available in this program with simple usability. It is one of the best antivirus programs and great security solution.